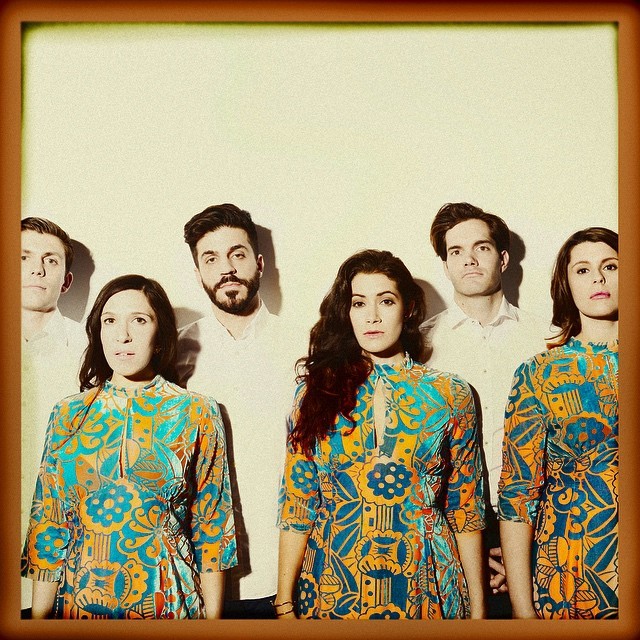 The story of Parlour Tricks is at the heart of TNYLS.
Parlour Tricks is an indie-rock band made up of Lily Cato (songwriter / lead vocals), Brian Kesley (bass / synths), Angelo Spagnolo (guitar),Terry Moore (drums), Morgane Moulherat and Darah Golub (backup vocals) – six musicians who met at The New School for Jazz & Contemporary Music in 2007. For five years the band enjoyed a steady climb, together as musicians and friends. They were vets of the New York music scene by the time they were named "Best Pop Band of 2014" by Village Voice, and in 2015 they released their debut album Broken Hearts/Broken Bones on Bar None Records and traveled abroad to London to promote it.
On October 7, 2016, the news of Parlour Tricks' final EP release was announced on clashmusic.com. Of the band ending Lily wrote:

When I started writing songs in 2009 it was just me, a metronome and a keyboard. There was no "vision", no plan, and no band. When the six of us started playing together and Parlour Tricks came into existence, there was still no real agenda. We were friends making music. It was the best. Every time a new opportunity presented itself to us, our response was always "Fuck it!" (i.e.: Yes). We always wanted to see what would happen if...
So we took every chance. We explored the country. We played the worst shows ever. We played the best shows ever. We recorded in gorgeous studios. We played Bonnaroo. We somehow got a demo (that was not supposed to see the light of day) into a BMW commercial. We got signed to a label that still cares about music. All this, and we never once took for granted that all these things are fleeting; it couldn't be this way forever. We always joked that the one time we ever got into a fight we'd break up, that the pressure would be too great and we'd just implode. But of course it didn't even come to that.
Within the last year, Angelo had to leave to explore other creative avenues. Terry had to go work in his family business. Morgane had to move across the country to follow her heart. It all happened quietly, like dominoes, one right after the other. No hard feelings, no fanfare, just.... life. Darah and Brian and I discussed replacing them and moving forward. But I couldn't wrap my head around it. It didn't feel right to continue without them. I'm sure there have been other bands as lucky as we've been. We couldn't be the only ones. But I know this kind of kinship is really a once-in-a-lifetime thing. And to know that is to know that it must end, as all good things do.
It took me a while to understand, but once I did I made peace with it. We want to honor what we created together by letting it be what it was, not try to make it something else. We had been working on these recordings on and off all year at Mission Sound, producing it ourselves and taking our time, without a real plan in mind. I realize in hindsight that we were making a parting gift; the last thing we created together before the dominoes fell. We are so happy to be able to share them now. As for me, I can't wait to start fresh and see what happens next. I'm always writing. The door is wide open. I've got no plan, and no band…. but that turned out pretty OK the last time.
Darah has been documenting members of Parlour Tricks since 2007 (before the band existed), and consistently from within the band since 2011.